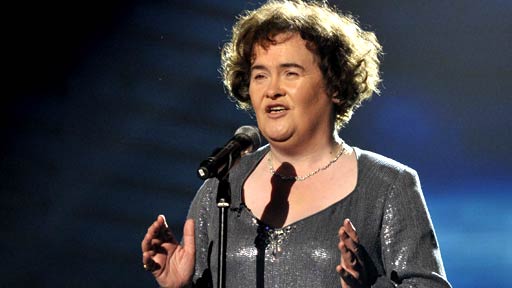 UPDATE: Lawd, it seems the publicity from media, attention from gawkers in addition to not winning Britain's Got Talent top spot (she was runner up to a male dance group-OUCH!!)...proved to be too much for our favorite underdog, Susan Boyle. She has been admitted to a London hospital for exhaustion...poor thing. Regarding the pressure that Susan has endured, Scotland First Minister, Alex Salmond 'was scathing about the media pressure, saying there were "elements of a press who like nothing better than to build people up and then drag them down." Well tell 'em how you really feel!! lol

Best wishes are with Susan Boyle, and I truly hope we haven't seen the last of her!! source
I cannot watch this video w/out tears!!
Scot Susan Boyle may look dowdy, contrary to a superstar-but she has the voice of an angel! watch as her singing transforms Simon C's smirk into astonishment. The woman can saaaannng and it took her 47years for everyone else to discover what she already knew-NEVER JUDGE A BOOK BY IT'S COVER!!


via videosift.com
The world is in for a wonderful surprise :)

check out Bria's Own Words
And on that note...