I really thought I heard everything in the area of crazy ass kids. But this takes the damn cake.
Not only has a fool's mother died...but her son has gone so far as to FORGE her death certificate and then dress in drag-in a poor feeble attempt to pass as his mother!! EXCUSE ME?!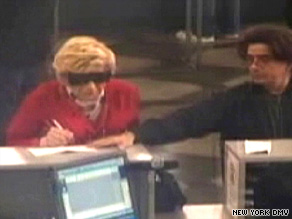 Surveillance video shows Thomas Parkin, left, dressed as his mother at a DMV office on April 29, authorities say.
Thomas Parkin, 49, aka 'Son of the damn Year' has been collecting checks in his mother's name for the past 6years. He collected more than $100,000 in government benefits. I mean if you break that down: 100,000/6= $16,000 per year. That's not a lot of money. I mean for one person if you're counting your pennies, stick to your budget and you may be able to make it.
Thomas and his dumb ass 'friend' Mhilton Rimolo, 47 were the masterminds behind this bs and I must say...it reminds me of the movie, Psycho, except this fool is really psycho!!
Thankfully, both of these macabre idiots are behind bars with bail set at $1million dollars per idiot. Where's mommy when you need her most?? You want to read the rest of this made-for-tv movie?? Then click
here>>
Check out a new blog which focuses on Black Celebs & Plastic Surgery: Black & Plastic and don't forget to visit my 2nd blog:Bria's Own Words