One thing I love about these ladies, twins Tia (Hardict) & Tamera Mowry is you NEVER hear anything negative about them. Either they're that down-2-earth and were properly brought up, or they have a doggone good publicist!!

I choose to believe they were raised the old fashioned way...not sparing the rod.
Be that as it may...whether it was the rod, or Dr. Spock...Tia and Tamera are the epitome of class.

Look at Tia's wedding pics (below). I don't see a tent above their heads. I don't see paparazzi..or any of that tomfooleryishness.

I digress.

Tia and her hubby, Cory Hardict, were married this past weekend..one source said Sunday. However, if you want to know for sure and you want to see more pics, pick up the new issue of People Magazine, Friday 4.25.08...(and no- People did not pay me to say that lol).
source: People.com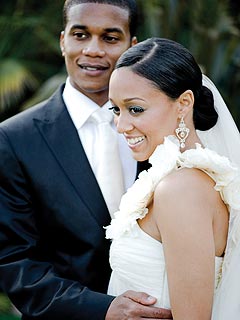 **In this pic-below-does she look preggers..or is it just the cut of the dress??
Come See What's Poppin'at Bria's Own Words, my OTHER blog!