I KNOW Baby J aka Senate Candidate 5 fka Jesse Jackson, Jr AIN'T going out butt booty backwards like his pappy, Pappy J.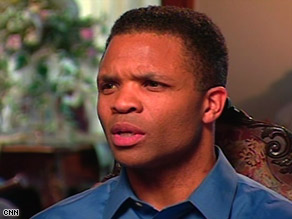 Rep. Jesse Jackson Jr. says neither he nor any emissaries offered favors in exchange for a Senate appointment.
The Rev. Jesse Jackson apologized to Sen. Obama's campaign Wednesday over "hurtful" remarks.

It seems Baby J's name is caught up in that bootleg scandal involving Illinois Gov. Blagojevich and the selling of Obama's senate seat.

*straight face*

I know Baby J wouldn't do something as dumb as attempt to buy his way into the Senate, when he knows the feds, CIA, ABC and LMNOP are on his behind cuz of his player hatin' pappy.

Baby J is looking pretty doggone scared in the pic above-I give him more credit than his daddy and he's eager to speak to U.S. Atty. Patrick Fitzgerald-I know that's right...sing like Tweety (the bird, not the singer), baby J, sing like Tweety!!

I like these quotes from Baby J:

As told to CNN's Don Lemmon"While I would be honored to serve the people of this state, it is clear to me that I am no capacity to serve them if there is a cloud over my head that seems to suggest that I am involved in some unscrupulous scheme to be a United States senator or anything else."
and in regards to his children:
"When it's over, I want every to know that I want my name back. ... I'm fighting now for my character, and I'm also fighting for my life," he said. "This is about my children being able to Google their name in five years and there be nothing there associated with them that suggests anything wrong."


Watch Jackson say he wants his name back »
I've learned a long time ago, everything that look good ain't good for you. I do hope Baby J's innocence is proven.
source

check out Bria's Own Words
And on that note...