NY Gov. David Paterson has confirmed, Caroline Kennedy-daughter of Jackie O & John F. Kennedy-has expressed interest in assuming Hillary Clinton's Senate Seat.
Shall we just go ahead and declare Caroline the winner now, eventhough there are 11 other people who are interested in the Seat as well??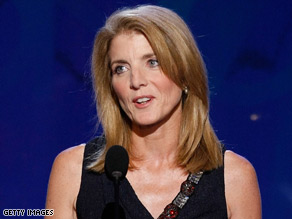 Caroline Kennedy has her eyes on the New York Senate seat.

One thing I know about NY besides their chronic vermin problem, is that NY'er LOVE them some Kennedys!

Since NY's Senator has to be 'replaced' Gov. Paterson will appoint said replacement-and then there will be a 'special election (held) in 2010 to fill out Clinton's term', according to CNN.

You already know Caroline is going to shut that election down, but you have to be fair to the losers errr, candidates who are running besides, Caroline. She comes from a large family of civil servants, so she's more than qualified.
Read more on the story here.

check out Bria's Own Words
And on that note...