What goes around, comes around.
Boy George (George O'Dowd) is on some other stuff for real.  Now mind you, I was a straight up BG fan in high school.  No one could apply make up like Boy George...and I LOVED watching him in interviews.
However, something has changed in Boy George.  I'm sure his chronic drug abuse, conflicted feelings for his bandmate and lawd knows what else has contributed to his 'troubles'
 Boy George  was sentenced to 15 months in prison  for falsely imprisoning a male escort Audun Carlsen.  HOW did he think he could keep somebody prisoner in his crib restrained to a wall, beat dude with chains and think there'd be no repercussion???
I guess he'll have 15 months to think on it. (source)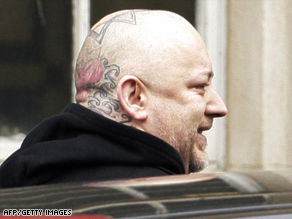 George O'Dowd, also known as Boy George, arrives at Snaresbrook Crown Court, in east London.
Instead of getting help, Boy George hired a male ecort 
GET IT TOGETHER, BOY GEORGE!!
check out Bria's Own Words
And on that note...