Is this a case of  life imitates art, or someone who just effed up badly??  I don't know Lillo Brancato from the hit series, TheSopranos, I remember him as the teenaged cutie pie who got his swirl on in the movie, 'A Bronx Tale,' (see video, below) starring Robert Deniro.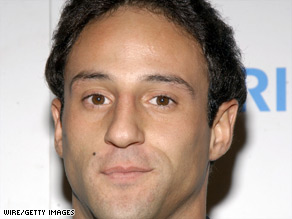 Lillo Brancato Jr. appeared on "The Sopranos" and played alongside Robert De Niro in "A Bronx Tale."
whatever the case, it seems Lillo has gone and partied with the wrong friend.  He was accused, and  cleared of killing NY police officer Daniel Enchautegi who was 28 yrs old. Lillo's accomplice Steven Armento was convicted and sentenced to life imprisonment w/out parole for the shooting.  After a night at a strip club, Lillo and Armento went looking for drugs. Officer Enchautegi stopped a burglary in progress and was killed as a result  Lillo is now serving 10yrs in prison for attempted burglary.  Read more here.
Prayers are with the Enchautegi fam and loved ones.
check out Bria's Own Words
And on that note...