UPDATE:  

Rihanna has finally released a statement regarding the Chris Brown situation.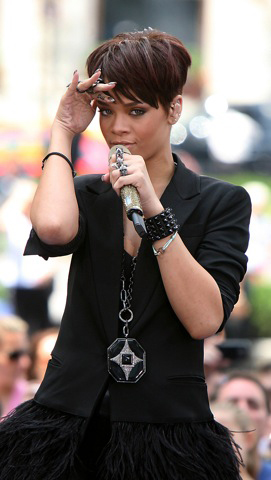 "At the request of the authorities, Rihanna is not commenting about the incident involving Chris Brown," Friday's statement reads. 

"She wants to assure her fans that she remains strong, is doing well, and deeply appreciates the outpouring of support she has received during this difficult time." 

The statement arrives on the singer's 21st birthday.

Rihanna finally surfaced in Los Angeles, nearly two weeks after Chris Brown allegedly beat, strangled and threatened to kill her.

TMZ published a police photo of Rihanna on Thursday, showing the extent of her horrific injuries: two huge lumps on her forehead, bruises all over her face and a bloodied lip. The Los Angeles police department is investigating the leak and have a suspected source in mind. 

"A violation of this type is considered serious misconduct, with penalties up to and including termination," police said in a statement.

And while Rihanna's father is reportedly livid the photo was leaked, he said one good thing could come of it -- his daughter's story will finally be believed.

"It's good and it's bad to see the picture because there's other people who were thinking differently, that (Rihanna's injuries) may not be that bad, just a little spank or a little thing," he said.
Rihanna's father will be Oprah February 24.  source
it does look like Rihanna has devil horns coming out of her head.
Beatdowns towards young women (teens and 20's) are all too common today.
My question is this....what is Rihanna going to do.
Yeah she loves him, but does she love herself enough to say: I'M DONE AND I DESERVE BETTER.
I hope Chris gets help, and I hope like hell Rihanna keeps it moving.
shoving, pushing, hitting, slapping is NOT love.
It's abuse.
If you or someone you know is suspected of being victimized by domestic violence, call this toll-free number: 1.800.799.SAFE (7233)
or go to www.ndvh.org
Let's put an end to the madness...NOW.
And for those who are taking up for the abuser, you're either A) An abuser also or B) getting the smack, smacked out of u...wake up.
check out Bria's Own Words
And on that note...