UPDATE: According to Bossip, the police report states Choppers (Chris Brown) has hit Rihanna prior to this 'Big ONE!' duhhhhhhhhhhh An person with rage such as what Choppers displayed on that fateful night, ALMOST ALWAYS display some type of aggression beforehand. That would explain why Rihanna looked (in pics) clingy, eyes always on him, in close proximity-never far from Choppers. Abusers are very territorial and will 'punish' their victim for the slightest infraction. He may not want to see Rihanna right now, but he may want to watch this video...as it does seem timely.

I read one of my fave gossip blogs and early yesterday and it stated Chris Brown and Rihanna were having drama-well, this blog was wrong on one acct before, so I assumed it was passing out wrong info again...until this morning!!
What the fa-sheezy is really going on? While Chris was trying to channel the spirit of 'Bitchop' Thomas Weeks, the good news is...he didn't stomp Rihanna in the va-jay-jay. The bad news is the island beauty is now a statistic. Too bad she couldn't hit him with her Umbarellla ellla elllla eh eh eh, or better yet she should've told him to Shut Up and Drive.

Honey, I'm too tirrrred to keep up all with all of this drama, but Young Black & Fabulous is giving a blow by blow account...so far here's what YBF is reporting:
The
So we've got the latest in the Chris Brown booking/assault incident from last night:
UPDATED 4:35pm (EST), 02.10.09: The Los Angeles District Atty's office asked the LAPD to investigate further before deciding to charge Chris Brown with more charges. I'm not sure what else is warranted...Chris Brown allegedly beat Rihanna so that it looks like 'devil horns' are coming out of her forehead, he busted her nose, lip, face is swollen and he bit her as if he was pac-man and she was the damn dots. WHAT ELSE do u need? This is why I have a love/hate relationship with the law. Look at his horse teeth-I bet she's still stinging from the bites. source

*the sad part to all of this??? My 17y/o son said Chris Brown's behavior will now make him a hero to many (ignorant ass) guys. I believe my son is correct. smh*

UPDATED AT4:42pm (EST): It's been confirmed: A source told Access Hollywood, Chris Brown aka baby Bitchop Thomas Weeks II bit Rihanna with his monkey teeth, and rained down fists of fury upon her. When two female assistants came to visit Rihanna, the poor thing became emotional. I sure hope the Bahaman culture taught Rihanna to have great self-esteem, cuz if she were American she'd be blaming herself trying to get back with Chopperserr Chris...I sure hope she's not Americanized. source

UPDATE (3:40p EST)
: News sources confirm that Wrigley has suspended Chris Brown's ad campaign as he awaits charges in this alleged altercation with Rihanna. Damn! Guess you gotta be
Michael Phelps
and get caught on camera breaking the law in order for people to look the other way.
UPDATE (2:54p EST): Here's pics of Rihanna and Chris Brown together right BEFORE the altercation/911 call went down: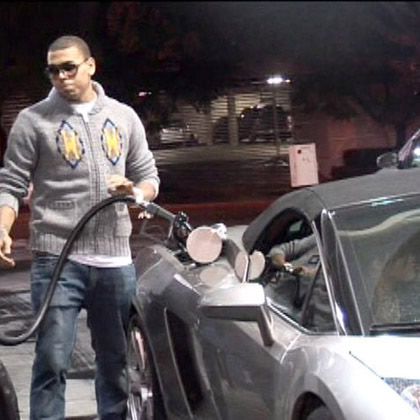 UPDATE (1:47p EST): Sources are reporting there was no deadly weapon involved event though the report says so. Interesting. We're also told that folks in the LAPD Wilshire department building were snapping pics of Rihanna on the low when she was in their making her report. And no car accident report was filed, only a report pertaining to violence. Cop sources say Rih definitely had serious and obvious bruises on her face that could not be covered by makeup. She also went to Cedar-Senai hospital at some point last night.
It has now been confirmed that Rihanna is indeed the female victim who named Chris Brown as the assailant. Chris will likely be charged with Felony Criminal Threats and may also get a Deadly Weapons charge. The crime report, which we're trying to get our hands on right now, says "assault with a deadly weapon" and lists Robyn Fenty (Rihanna's government name) as the victim. So much for confidentiality.
Last night, Chris posted his $50,000 bail and left the LAPD Wilshire Department Building. The whole "car accident" story, just as we said last night, was a bad PR lie by Rihanna's PR people. Apparently this is not the first altercation Chris and Rihanna have gotten into. We've been told Rihanna was calling Chris several times last night after the fiasco as they've been having a very heated relationship lately that goes back and forth. I guess that wack cover-up story was a way to cover her ass to the public if they end up staying together.
People are speculating the cause of the altercation as ranging from an STD being passed (after Rihanna was spotted with a cold sore a few weeks back), to a drunken fight that escalated way too far, to a jealous rage and fight due to another man/woman being in the picture. Interestingly, Chris has previously discussed in interviews that his stepfather was physically abusive toward his mother. Chris has also secured high powered attorney Mark Geragos, the same lawyer for Michael Jackson who helped him defeat those molestation charges.
Check out all of our updates and the original story from last night here.
STORY STILL DEVELOPING…
Pics of Chrihanna right before the altercation when you read the rest…
TMZ reports Rihanna had contusions (bruises) and bite marks....dang,them youngins fight durrrrty!! It was also said Brow was charged with assault with a deadly weapon (it was later retracted)...while no 'weapon' was used, being well-versed in martial arts-hands/feet can be considered a deadly weapon. sigh

check out Bria's Own Words
And on that note...