I don't have to see Oolyoolywang displays such as this...give people a platform and they don't know when to quit..sigh
Apparently, Mother Wisdom decided to channel Beyonce in order to minister and show off her singing/choir director skills...why must I cry?? Mind you, this is at a FUNERAL! smh thanks C & D
One of the caveats of my having a very biz schedule is not being able to see Juanita Bynum continue her mental decline. This woman needs help, and I know HG has spoken, spoke thru someone else, put it on a billboard, shadow puppets, smoke signals...SOMETHING to let her know this is NOT OK.
YBF posted some pics of the Profitess Bynum who celebrated her 50th bday in this manner...her newly altered wedding dress-the one she wore when she married Weeks. If I know Profitess, she'll be charging those who want to know more about her bday party

I'm sure she's goin to say Holy Ghost told her to dress up in her wedding dress, but I'm not believing it for a minute:
sigh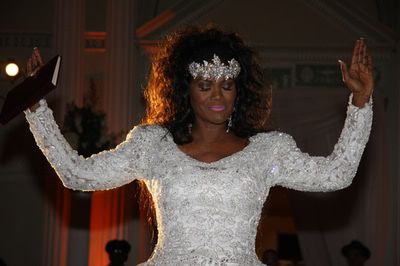 Of course her new bff Essence Magazine was on hand to write the checks I'm sure to document her soiree. FoolyOolywang-indeed! Holy Ghost is just one big slogan generator!! check out the 'bauble' Profitess gifted her guests (male/female)with:
Redefine Yourself'09
Profitess challenged every to marry their destiny!! Who knew God had his own marketing dept.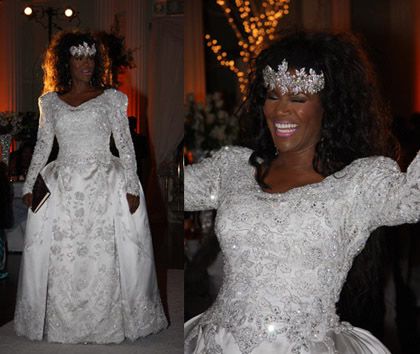 According to Essence.com, Profitess purged (items-see below) from her life are laid to rest. "I declared that my past would not be a part of any mockery, shame or error," she says
re: her post-wedding dress dress
'Bynum designed her own skirt by adding personal memorabilia and photos of herself and her parents from past to present. "My dad was my rock," says Bynum, who lost her father to a sudden heart attack seven months ago.'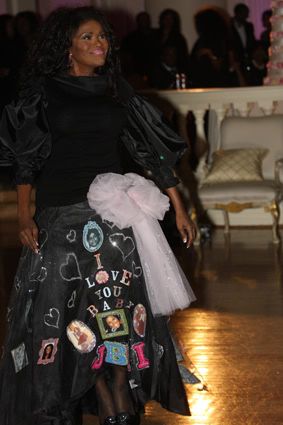 Profitess' cake has family pics

Your thoughts??

check out Bria's Own Words
on that note...