I pledge allegiance to the flag of the United States of America, and to the Republic for which it stands, one nation under God, indivisible with liberty and justice FOR ALL'
if that statement isn't a pile of ish I don't know what is. Liberty and justice for whom?? Non-minorities. why aren't minorities who are missing given the same media coverage?? Why did 2 white teens who beat the hell out of a hispanic man-TO DEATH mind you-GET OFF SCOT-FREE?? I'm not going to jump on a soapbox today, I'm crampy and my damn nosed is stopped up so I'm breathing out my mouth-I got a lot going on ok??


But I can't help but wonder why is a runaway-AND DAMMIT SHE IS A RUNAWAY-garnering so much damn media attention??





Am I missing something?? Why in the hell is Brittanee Marie Drexel headline news?? She's not missing. She took her grown ass to Myrtle Beach after her mother told her to stay her ass at home. Brittanee knows where she is-she's just not telling mama. Why isn't CNN's Nancy Grace covering a story on Chioma Gray who's been missing since December 13, 2007. According to the blog Problem Chylde:

Andrew Tafoya was ALSO listed as missing along with Chioma and he was listed as her companion! Understand family, these are not schoolmates: this is an Adult who has absconded with a child.

Andrew Tafoya is a convicted felon who has served time for (261.5pc) Unlawful sex with a minor.
This has NOTHING to do with being Brittanee's concerned parent. Her mother has every right to be sad and PISSED simultaneously, however I think it's sad that certain people are designated more newsworthy over others. Thank GOD for Deidre of the blog
Black & Missing
. A blog that is 100% dedicated to those who are missing but go unnoticed on mainstream media. Please check out and support Deidre at
Black & Missing
for the latest update on missing minorities.
NEW YORK (CNN) -- The mother of a 17-year-old girl who disappeared while on spring break in Myrtle Beach, South Carolina, has identified her daughter on grainy hotel surveillance video.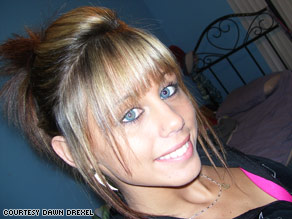 Brittanee Marie Drexel's mother on Friday confirmed it was her daughter seen in a hotel surveillance video.
"When I saw her profile it was confirmed," Dawn Drexel said Friday on "Nancy Grace."
Drexel's daughter, Brittanee, was last seen on Saturday, several days after she traveled to Myrtle Beach against her mother's wishes.
In the video, a girl wearing shorts and flip-flops walks in and later out of the doors of a hotel on Saturday evening. Brittanee Drexel supposedly was on her way to meet friends at another hotel nearby.

Watch her mom talk about spotting her »
Meanwhile, Myrtle Beach Police reportedly have shifted some search efforts about 40 miles to Georgetown County, based on tips. But there is still no sign of the high school junior from Rochester, New York.
Dawn Drexel said she had forbidden her daughter to go to Myrtle Beach, a popular destination for high school and college spring break. But Brittanee and her friends apparently drove the 850 miles to the coastal city anyway. Drexel said her daughter had about $100 with her.
"We're going to all of the businesses and restaurants on Ocean Boulevard," Drexel said, but she admitted that she is concerned something may have happened to her daughter.
"We're going to all of the businesses and restaurants on Ocean Boulevard," Drexel said, but she admitted that she is concerned something may have happened to her daughter.
"I just have a gut feeling that because the stories don't match, things aren't making sense to me," Drexel said, referring to reported contradictions in the information Brittanee's friends have given police.
Authorities have not named any suspects or persons of interest in the case.
source>>
When I googled 'missing minorities in the media 2009' there were 581,000 results, and when I ggled 'missing minorities in the media' there were 1,070,000 results!! My cry is not alone!
My cry is not isolated!
check out Bria's Own Words