I must admit it, motherhood does fit J-Lo.
She's absolutely glowing.
Shoot I would too if I owned an empire, had nannies on call, could pay (in full, up front) for a plastic surgeon to snap my stomach/and boobages to pre-pregnancy state, among other things.
J-lo's livin' la vida loca!
And I ain't mad at her.

I do like the children's names. Max and Emme, not bad.
I'm guessing there's better pics of the kids in People Mag.

Ok..anywhooo CONGRATS AGAIN JEN & MARC.
I wanna see Nahlah Ariela, now!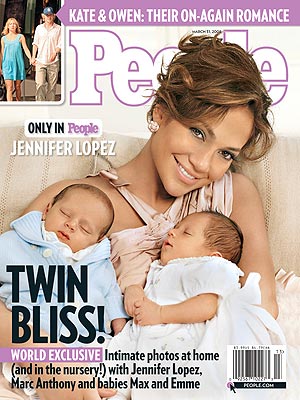 source
Come See What's Poppin'at Bria's Own Words, my OTHER blog!