UPDATE VII: Travis Barker released from hospital and headed home source
UPDATE VI: DJ AM Pays his respects to victims of plane crash-good to see he's out and about.  source
Burns visible above his shirt.
UPDATE V:  Barker tries to remain positive after burn surgeries, read here
UPDATE IV:  How DJ AM & Travis Barker survived...read here
UPDATE III: What the Dr said...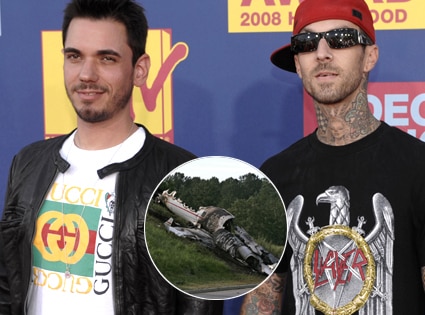 A full recovery is expected for Travis Barker & DJ AM, says Dr. Mullins of the burn center in Augusta, GA that is treating both men.  Barker & AM both suffered 2nd & 3rd degree burns (yikes!), with Barker receing burns on his torson and lower body-while AM suffered burns to his head & arm.  In the meantime, both Barker & AM are expected to remain hospitalized for weeks.  continue reading here
UPDATE II: Video of plane wreckage
UPDATE (print emboldened for emphasis by Bria):
A friend of Travis Barker and DJ AM has revealed to E! News some grim new details about last night's plane crash, which the two survived but four others did not.
AM is "really, really badly burned," according to the source, who confirms that "his face is very burned." The source adds, "More than 50 percent of his body is burned and the worst is on his face."
The friend also said that Barker was burned "mostly from the waist down."
Both men are in critical but stable condition at the Joseph Still Burn Center in Augusta, Ga. E! News was told by the source that, as of this morning, DJ AM was being "kept in an incubator" as part of his treatment in order to maintain a sterile environment and prevent infections.
The source also said that AM was looking forward to coming home last night and, in fact, e-mailed a picture to a friend that showed him standing next to the Learjet right before the ill-fated takeoff. "He sent a picture being like, 'Hey, I'm coming home on this ride.'"
Another source reports that Barker's ex-wife, Shanna Moakler, who was just spotted with him Wednesday night at the Janet Jackson concert in Los Angeles, has left their Calabasas, Calif., home and is headed to Georgia to be with him.
As for Barker's friend and business partner "Lil' Chris" Baker, who died in the crash: E! has learned that Baker was newly married and had a new baby. "He was the sweetest, nicest guy. He was like Travis' right-hand man."
Baker often appeared on Travis and Shanna's MTV reality series Meet the Barkers, which aired in 2005 and 2006. source


***
If these two survivors didn't have a strong foundation in God, I bet they do now!
I can SAY the survival of DJ AM and the baddest drummer known to Gen Y/Gen X (he gets mad love from my son Tone) le' drummer extroadinaire, unda-cova-brotha-from-anotha-motha Travis Barker is indeed A MIRACLE-sorry y'all but Travis is one of the coolest, most down to earth celebs (unless him and wife are beefin with each other on myspace, lol) there is!
DJ AM, left, and Travis Barker pose backstage at the MTV Video Music Awards on September 7.
1 of 2
DJ AM and Travis Barker-were the only survivors of a Lear Jet Crash. The crash happened shortly after midnight Friday, when air traffic controllers reported seeing sparks.

2 other passenger and the 2 crew members died.
Barker and AM are both listed in critical condition and are now being treated at the John M. Still Burn Center in Augusta GA, 75 miles from Columbia, SC where they performed a free college-night event with other celebs.
Continue reading the story here

Thoughts and prayers are with the family and friends who are mourning the loss of:
Pilot Sarah Lemmon, 31, of Anaheim Hills, Calif.; co-pilot James Bland, 52, of Carlsbad, Calif.; security guard Charles Still, 25, of Los Angeles; and Barker's assistant Chris Baker, 26, also of Los Angeles
Chris Baker & Travis Barker (below)
Prayers also go out to Travis Barker & DJ AM for a speedy recovery


(drummer, Travis Bakrer-abv)

(DJ AM-abv)

DJ AM, left, and Travis Barker pose backstage at the MTV Video Music Awards on September 7.
And on that note...