For all of us who are STILL employed, it is ONLY by the grace of God. With each passing day, America is no longer the land of opportunity, but of INOPPORTUNITY! Never in my life, did I think I would live to see this country in such dire strait...and the downspiral continues to worsen!
After reading in the news, this past week has seen job losses EXCEED 100,000, I'm admit I am anxious-though I shouldn't be- for NO ONE'S job is safe. You can delude and deny yourself the reality...but the numbers are telling the tale!
Monday, Jan. 26th was known as Bloody Monday, as 65,000+ jobs were cut from seven companies:
Caterpillar (Construction Machinery) cutting 20,000 jobs, cut 2,000 more..

.totalling 22,000!



Pfizer (pharmaceutical co) cutting 20,000 jobs
Sprint Nextel cutting 8,000 jobs (their bootleg customer service...did them in)
Home Depot cutting 7,000 jobs (no need to put in an app there, kids!)
Texas Instruments (calculators etc) 3,400 cuts
ING (financia group) 7,000 job cuts
and Deere Co.(riding lawn mowers etc), 700 job cuts
Wednesday, Jan. 28th

Boeing (aircraft manufacturer) -10,000 job cuts
Friday, Jan. 30th
Chico's (women's clothing)-180 cut
A.H.Belo (newpaper publisher)- 5,000 job cut
This sounds like a job for T-baby...we need her to sing
:
' ...It's sooo cold in the States...why I gotta keep lookin at dates? going thru the dayyyyy, wondering if my comp'ny'll let me stayyyyyyyy...I've been working working long for this comp'ny...but now it's slow, and now the CEO tell me that I gotta leave and that means I won't have insurance and I can't pay my bills, but the CEO will get a $20million dollar bonus this year eventhough the company posted a $6billion dollar loss and stuff....it's so cooooold in the States...why I gotta keep lookin at dates? goin thru the dayyyyyy, wondering if my comp'ny'll let me stayyyyyyy.... '
sing it T-Baby!!
***************************************
Real Talk...
Do you know how many more family murder-suicides we're going to hear about?? Firings, high child care costs, frustration, fear, depression about one's future...recipe for disaster:
Lupoe Family
(reasons still not totally known, below)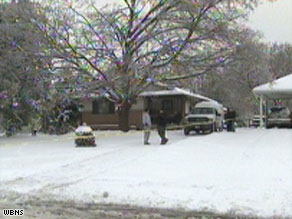 Police tape surrounds a Whitehall, Ohio, house, where a family of four was found dead Wednesday.
Jan. 28: A police detective enters the Ohio home where four bodies were found in an apparent murder-suicide. AP
Pray, pray, pray and then pray again.

check out Bria's Own Words
And on that note...