CNN has reported President Obama's brother, George, has been arrested in Kenya for drug possession. George was allegedly in possession of Marajuwanna aka Bhang in Kenya-and he's also said to have resisted arrest. no friggin comment.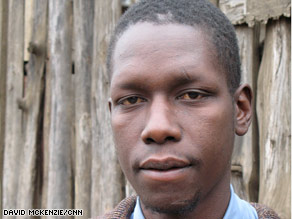 Leave it to the media to post up a pic of George Obama, looking blowed as hell. smh
George said in an interview the police came to his house and picked him up without him knowing why. George is Pres. Obama's baby brother on his father's side. He is in his mid-20's.

I'm going to withhold my opinion until more facts are released. I'm not going to cry injustice just bcuz he's Pres. Obama's brother-and cuz he's black.  This is Pres. Obama's brother, true,  but it has no impact on his ability to be President of the United States.  We all have family members who have ran into trouble...LET'S NOT ACT BRAND NEW!!
I'm just going to say it's suspect as hell...somebody's lying-either baby Obama, or the po-po's!
Either way, what goes on in Kenya, should stay in Kenya!!
hmpf!
Read more here

check out Bria's Own Words
And on that note...