According to People.com, Usher
has filed for divorce from his wife Tameka
. I spoke about the possibility about the demise of their marriage last year,
here>>
. Shocked, but not surprised I admit.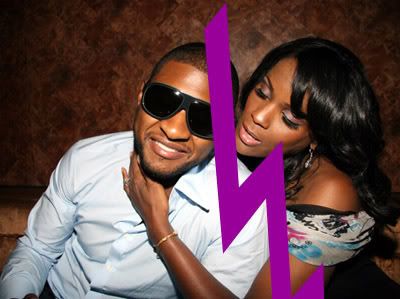 According to People.com:

The R & B star filed the petition Friday in Superior Court in Atlanta, court records show. The couple, who got married in August 2007, have two sons together, Usher Raymond V, 18 months, and Naviyd, 6 months.

Tameka, who's on twitter (@tamekaraymond) is nonplussed. Tameka's twittin her azz off-with happy twits about Navyid looking cherubic and sharing bible scriptures. But why should she be upset?? She has two children by Usher and will be sitting pretty financially in a minute.

I know Mama Patton is doing her Holy Ghost dance right about now. Stay tuned for details.

Check out a new blog which focuses on Black Celebs & Plastic Surgery: Black & Plastic and don't forget to visit my 2nd blog:Bria's Own Words